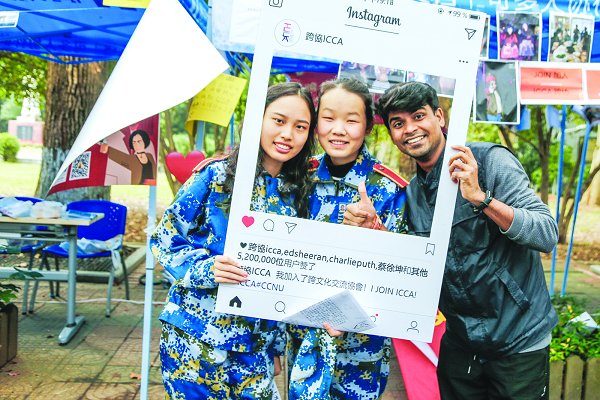 With the osmanthuses fragrant suffusing the entire CCNU, we mountaineer have welcomed the arrival of "Hundred-Regiment Campaign". On October 20 and 21, various kinds of associations held exciting displays around Fountain Plaza and along Guizhong Road, meanwhile, the main session set in front of Boone Library and appeared to be super splendid.
The overall impression
Generally speaking, nearly all the interviewees mentioned that they were euphoric to find abundant categories of associations, which supplied cute gifts. Besides, indulging in the brilliant shows of the main session, they obtained an entirely different and wonderful feeling there. Although the majority really thought highly of the "campaign", some still put forward one proposal -- to substitute the small nameplates with bigger ones.
Specific impressions
Apart from the overall impressions, a couple of interviewees also shared some associations they were interested in. For Huan, she had an intention for Astronomical Amateur Association as she believed it was fantastic to make astronomical observations and she could acquire lots of relevant knowledge from there.
While Xiao Meng was keen about Popular Science Association and Photographic Association because she thought there were bunches of fun. Xiao Duan and A Long, both wanted to join the Cardle Literature Club as they considered that there were rich culture deposit and amazing group activities.
Obviously, participants all tended to relish this campaign and those wonderful associations. In contrast, what are the feelings of being the members who are in charge of associations?
Answers from leaders
Director of Propagation Department of TED replied that on the one hand they were supposed to smoothly contact with school media; on the other hand, they must accomplish their own posters and programs. In some cases, it really annoyed her for she had to finish a mass of tasks in a short period, but often when her work came to an end the sense of achievements just surged inside her.
President of ICCA considered their association as a bridge between Chinese students and International students, where one was able to enjoy different cultures and make friends with people from all over the world.
President of the E-sports Association pointed out that their association was expected to change the traditional views of people`s thought about e-sports. Sometimes we even couldn't imagine how great efforts they had devoted to their system construction.
From these chief members, we could draw a conclusion that every association deserved strong passion and huge endeavor. And contributing one's spare time to what he or she really adores can be extremely cool.